---
Theme : Valuation in a Globalised Economy
>>27th -29th November 2006, Singapore<<
Report on the 1st WAVO Congress in Singapore in 2006
Hosted by World Association of Valuation Organisations (WAVO) and Singapore Institute of Surveyors and Valuers (SISV), the three-day Congress was held from 27 to 29 of November 2006 at Meritus Mandarin Hotel, Singapore. Delegates from countries wideworld including Australia, Brunei, Canada, China, Finland, Hong Kong, Korea, Malaysia, New Zealand, Nigeria, Romania, Russia, Taiwan, United Kingdom, United States, Vietnam and Singapore attended the congress. Prominent professionals from around the world were present to share their valuable experiences and views on a wide spectrum of valuation issues.
At the opening ceremony, Dr Lim Lan Yuan, Chairman of WAVO, said that the first ever WAVO Congress which was strongly supported by many international professionals would be a good platform for valuers to interact with each other and to discuss matters across borders.
Following Dr Lim's speech was a series of short welcome speeches by other WAVO members, including Mr Keith Goodwin from Appraisal Institute of Canada (AIC), Ms Marcia Bowden from Australian Property Institute (API), Mr K K Chiu from Hong Kong Institute of Surveyors (HKIS), Mr Gary Taylor from Appraisal Institute (AI) and Dr Amy Khor from Singapore Institute of Surveyors and Valuers (SISV). They expressed their greetings to all as well as their hopes that the WAVO Congress would provide an opportunity for valuers to network with one another on a global scale and hence improve a better understanding of valuation standards and practice in various parts of the world.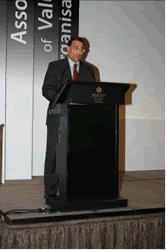 Mr S Iswaran, Singapores Minister of State for Trade and Industry who was the guest of honour, officiated at the opening of the 1st WAVO Congress. He expressed his wish that the international meeting would enable the global valuation industry to standardize its practices and extend its network. He emphasized that it was important for valuers to keep themselves updated on new developments, to upgrade service quality by using technology and for valuation organisations to conduct more training courses to improve the skills of the valuation fraternity.
The theme of the WAVO Congress was Valuation in a Globalised Economy. Many topics were discussed at the plenary sessions. In view of the booming property markets in many parts of Asia, particularly China, Vietnam, Hong Kong, India, Singapore and other developing countries worldwide, speakers at the congress focused their attention on pressing issues such as the new roles and responsibilities of valuers, professional ethics, and the education and training of valuers.
Issues which attracted intense interests were those related to the valuations of hotels, hospitality and commercial property, and REITS. Increasing cross- border portfolios of property assets have become major attractions to investors in the current booming markets. The growing financial complexity of funding commercial properties and new valuation techniques required to deal with the new situation were also highlighted at the plenary sessions. Similarly, the property taxation system, assets appraisal and the valuation of enbloc properties in the case of Singapore, were all topics which drew much attention and discussion among the participants.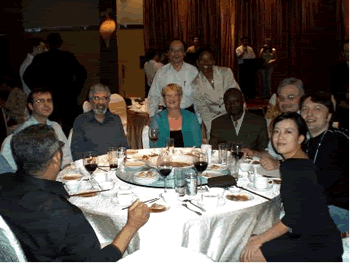 Besides the technical paper presentations, technical tours were specially arranged for the delegates to visit Jurong Town Corporation (which takes charge of industrial development in Singapore) and Sentosa Cove ( a high-end resort development in Singapores Sentosa Island).
Before the official closing, a Memorandum of Understanding for Recognition of Designations was signed between 4 organisations, namely, Australian Property Institute, Appraisal Institute of Canada, Property Institute of New Zealand and Singapore Institute of Surveyors and Valuers.
A presentation of awards for the practical and research papers were presented to 6 outstanding delegates, including Mr Alan Hyam (Australia), Mr Duncan Preston (UK) and Mr Zhao Qiang (China), Prof Kauko Viitanen (Finland), Dr Ion Anghel (Romania) and Dr Lin Tzu-Chin (Taiwan).
Summing up the historic event, Dr Lim gave credit to all those who had contributed to the success of the congress, particularly the sponsors and advertisers, and all delegates to the congress.
To further consolidate friendship between local and foreign delegates, a farewell dinner at The Legends Fort Canning Park was held. Delegates enjoyed the occasion. A stronger than ever sense of fraternity and affiliation among all the delegates was evident at the dinner.