---
Theme : Meeting the Valuation Needs of a Globalised World
>>17th – 19th October 2007, Beijing, People's Republic of China<<
Report on the 2nd WAVO Congress in Beijing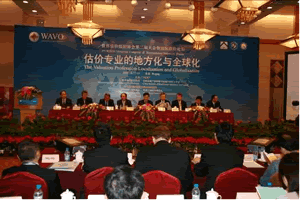 More than 300 participants, majority from mainland China and Australia, Canada, Hong Kong, South Korea, Malaysia, New Zealand, Russia, Romania, Singapore, United Kingdom, USA and Vietnam attended the 2nd WAVO Valuation Congress held from 17-19 October 2007 at Xiyuan Hotel, Beijing
An the opening ceremony, Dr Chai Qiang, Secretary General of China Institute of Real Estate Appraisers and Agents (CIREA) welcomed guests and participants to the congress. In his address delivered in both Chinese and English, WAVO Chairman Dr Lim highlighted the important role of WAVO. He stressed that through congresses and other dialogues, WAVO provided an excellent platform for valuers and allied professionals in the world to exchange ideas and views on valuation issues and to obtain a better understanding of the current state of valuation practices in the region.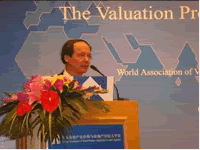 Dr Lim thanked the China Institute of Real Estate Appraisers and Agents for co-hosting the 2nd WAVO Congress and International Valuation Forum with WAVO, and the China Appraisal Society and China Real Estate Valuers Association for co-organising this event. He also thanked the guest of honour, Mr Qi Ji, Vice Minister of Construction for kindly officiating at the opening ceremony.
After a day of discussion, delegates attended a welcome dinner as they mingled and exchanged contacts.
Day 2 started with 7 simultaneous workshops with 29 papers presented both in English and Chinese. Topics discussed incude Factors affecting Values, Valuation Standards, Valuation Methods in China, Development of Valuation Services, Business and Specialized Valuation, etc
A Technical tour was arranged for Day 3 for overseas delegates to Beijing Shoujia Real Estate Appraisal Co., and the China Central Television (CCTV) Tower. Beijing Shoujia Real Estate Co is one of the largest Real Estate Appraisal firms in Beijing. The CCTV is located in Beijings Haidian District, near the Gongzhufen metro station and Yuyuantan Park. It was built in 1992, and is the tallest structure in Beijing, China. It has an observation deck at 238m, and the tip of its antenna reaches a height of 405m. It provides the best panoramic views over the city from its observation deck. With the telescope provided one could enjoy a distant but clear view of the 2008 Olympic Stadium under construction.
At the farewell dinner, Dr Lim presented awards to Faziah Abd Rasid (Malaysia) and Don Gilbert (Australia) for their research and practical papers presented at the congress. He also announced that the next WAVO Valuation Congress will be held in September 2008 in Romania and Adrian from National Association of Romanian Valuers (ANEVAR) gave delegates some information on the congress