---
Theme : Financial Market Security and the Valuation Profession
>>24th – 25th November 2009, Guilin, Guangxi, People's Republic of China<<
Report on the 4th WAVO Congress in People's Republic of China
The 4th WAVO Valuation Congress held in Guilin Waterfall Hotel on 24-25 November 2009 was a great success. Aptly themed "Financial Market Security and the Valuation Profession" in the light of the current volatile market conditions, the Congress attracted more than 360 delegates from Australia, Brunei, Canada, China, Hong Kong, Korea, Malaysia, Indonesia, Russia, Romania, Singapore and USA.
The Congress began with welcoming speeches by Ms. He Bangjing, Vice Minister of Ministry of Finance, China and Dr Lim Lan Yuan, Chairman of WAVO. This was followed by the presentation of 17 papers by delegates from Australia, Canada, China, Hong Kong, Malaysia, Romania, and Singapore. A technical visit to Reed Flute Cave and DieCai Hill followed thereafter.
At the closing ceremony, the Hong Kong Institute of Surveyors was included in the Memorandum of Understanding for the portability of designations. The MOU under the auspices of WAVO was signed at the Inaugural WAVO Valuation Congress held in Singapore in 2006 by four national valuation institutes, the Australian Property Institute, the Appraisal Institute of Canada, the Property Institute of New Zealand and the Singapore Institute of Surveyors and Valuers.
Outstanding Practice papers were presented by Mr. George Badescu from Romania on "Optimization Research for a "Lifestyle" Centre and Criterion", Mr. Wang Zilin from China on "Early warning, order : Functions of evaluation on the Total Risk Management in Finance" and the technical paper was presented by Ms. Norhayati Daud from Malaysia on "Property Education in Malaysia : The Gap between industry expectation and working graduate's readiness and capabilities in the property industry". Dr Lim presented merit awards to the presenters at the closing ceremony.
To facilitate developing economies in building their valuation capacity, a 2-day pre congress course on "Ethics and Conduct of Valuers, Valuation of Specialized Properties and Valuation for Financial Reporting" was also conducted.
---
Opening Ceremony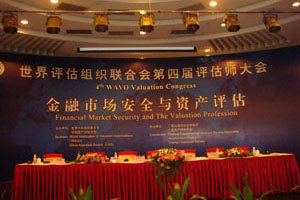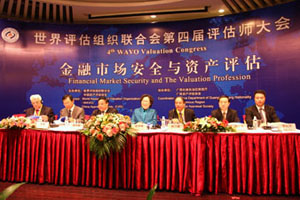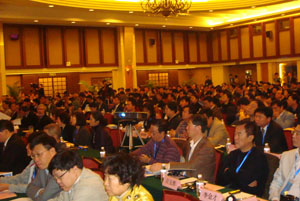 Presentation of Merit Awards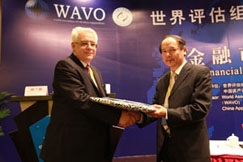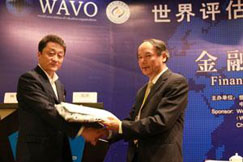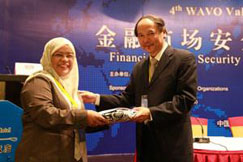 Signing of MOU