---
Theme : Ethics In Valuation Profession
>> Thursday 6 September 2018, Bucharest, Romania <<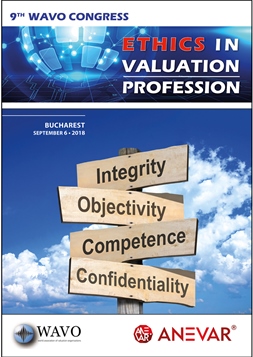 Members of the World Association of Valuation Organisations met recently in Bucharest Romania to attend the 9th WAVO Congress and WAVO Executive Committee Meeting on Thursday 6 September 2018.
The event was well attended by members from:
Appraisal Institute
Australian Property Institute
China Appraisal Society
Hong Kong Institute of Surveyors
HypZert GmbH
National Association of Romanian Valuers
Property Institute of New Zealand
Singapore Institute of Surveyors & Valuers
WAVO also wish to take this opportunity to welcome new WAVO Members from Mexico (FECOVAL), Korea (KAPA), Portugal (ASAVAL) and Romania (Darian DRS SA).
There will be two major events by WAVO NEXT YEAR.
In June our WAVO Member in Germany will be organizing the IVSC-WAVO Global Valuation Conference 2019 and it will be held from 13 – 14 June 2019 in Frankfurt, Germany.
In October, our WAVO Member in Australia will be organizing the 10th WAVO Congress 2019 and it will be held from 23-25 October 2019 in Gold Coast, Australia.
The next WAVO AGM will be held on 14 June 2019 in Frankfurt, Germany.
WAVO will keep you informed on details of the upcoming events in due time.
Regards
Teo Li Kim
Secretary, WAVO
likim@wavoglobal.org
---
| | |
| --- | --- |
| WAVO new member – Mr Choi Kyung Kwan, Executive Director (KAPA), Korea | WAVO new member – Mr Rodrigo Peña Porchas, President of FECOVAL, Mexico |
---
More Photos